Competitions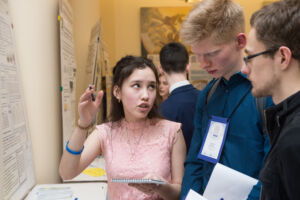 AMC
The American Mathematics Competition (AMC) tests allow students to showcase their exceptional skills in the field of mathematics. At 4Schoolers we prepare students to take all levels of this test including the AMC 8, AMC 10, and AMC 12. We encourage and train students to perform at a high level on these exams, for they can allow students to take the highly-selective AIME test.
AIME
Through preparing students from an early age in their mathematical careers and focusing on the fundamentals of problem solving, 4Schoolers has able to have many students be offered a place to take the American Invitational Mathematics Examination (AIME) test. This test by invitation only and only students who score in the top 5% of the AMC 12 or top 2.5% of the AMC 10 are offered a spot to take the AIME.
Science Competitions
4Schoolers prepares small groups of students for an array of science competitions in subjects including Biology, Chemistry, and Physics. 4Schoolers also partners with schools to help train their scholastic teams.