Secondary School Admissions
4Schoolers provides families in search of placement in independent American Secondary Schools consultancy, essay-preparation, and tour help. Our all-encompassing services allow students to learn about all of the different school options, visit the schools and oftentimes speak with current students, and work to present a stellar application. Secondary School admissions services can also be seamlessly paired with test preparation services that allow students to show excellent scores when applying. 4Schoolers offers Secondary School admissions services for students at all stages in the process, as early as sixth grade and up to the eighth grade.
Over the past few years our students have been accepted into the following independent schools: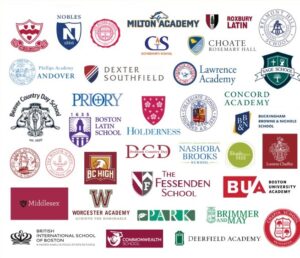 College and Graduate School Advisory
4Schoolers provides one-on-one school admissions advising for both the college and secondary-school admissions processes. Our College and Graduate School Advisors come from some of the best colleges and private schools, each with significant experience as teachers. When we match a student with a College and Graduate School Advisor, we try to select one that has personal knowledge of the institution they are applying to—if possible, we even find an alumnus! Our Advisors have years of experience advising and editing college essays, and they possess experience in law, marketing, public relations, and persuasive writing, making them uniquely-equipped for strengthening essay writing and interviewing skills.
Over the past few years our students have gained admission into the following top universities: